I recently wrote an article for a local newspaper on the theme of 'Going Places'.  I wrote about a lovely photograph I recently received from a family who are travelling with us on Safari this year – two adults and their two children aged 8 and 9. The mother, a teacher,  is keen to make this not just a holiday, but also an educational opportunity for the children. I have assured the family that there is no doubt about that – as the experiences we provide and the everyday things we do whilst on Safari are full of opportunities for learning – for young and old – it is really what Alexandra's Africa is all about. So I am now in regular contact discussing the animals and other sights they will see on their Safari, so that the children can read up all about them as part of their preparation. Also, as part of the preparation, the children were given some lovely Safari clothing and binoculars for Christmas – and the photograph I refer to above, was one I was kindly sent of the children standing next to their Christmas tree,  all dressed up in their new Safari gear with binoculars ready to go! It is a lovely, happy picture and it makes me smile now as I write about it.   I look forward to seeing the real thing when we are on Safari.
It makes me think about how important all the preparation (the before) as well as reliving the memories (the after) are so much part of 'Going Places' – the excitement of it all in advance, then the Safari itself and all the experiences that will bring, and then the memories as one looks over photographs and shares them with family and friends once back at home. At Alexandra's Africa we focus on this by helping with all the planning and preparation and we take photographs (with permission of course) during the safari of our guests enjoying themselves, that we gift to our guests as a memento at the end – that will we hope be enjoyed for years to come. It makes it all very special for us and our guests.
If you are going places this year – remember to really enjoy the before & after, as much as you enjoy being there!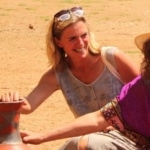 Alexandra's Africa is a local independent, niche Safari Tour Operator based in the New Forest in Hampshire, offering a range of small-group hosted Safaris and Retreats. For information or to contact:  W: alexandrasafrica.com or T: 02380 861278 or E: alexandra@alexandrasafrica.com.