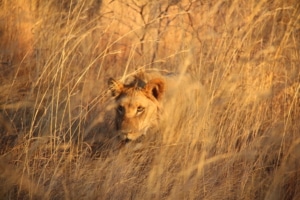 Many of the people who travel on our Safaris are keen Safari Photographers as well as those keen on wildlife, nature, conservation and the outdoors. Throughout the trip, one of the most enjoyable aspects for me is to capture not only some spectacular wildlife shots, but also the guests as they are enjoying the trip. To tell the story of the safari.
Highlights & sightings of note from this particular Safari were:
Experiencing a superb interaction between a lion, her young cub and an unsuspecting baby rhino! The young lion cub was being trained in the art of hunting by his mother. Under the guiding eyes of his mother who remained close by, the young lion cub hid behind a bush as the young rhino approached followed by his mother. When the baby rhino was within a few feet of the place he was hiding – the young lion cub leapt out from his hiding place, then charged, pounched and attacked the baby rhino, but was quickly brushed aside by the protective rhino mother. The young lion cub with his damaged ego then trotted back to his proud mother. Hunting lesson No. 1 succesfully completed.
We also found an Ardvak (very rare sighting) foraging for termites at sunset. We enjoyed a number of wonderful cheetah sightings and we were entertained by a tiny Elephant Shrew as we enjoyed our sundowners one evening from a magnificent mountain top viewpoint in the Waterberg Mountains of Limpopo.   Meeting local artists is always a highlight, and we enjoyed an evening concert of local song and dancing put on by the choir of one of our lodges – and sampling local produce from African market traders on our community tour is always fun! A few brave guests joined me and sampled the local dried Mopane Worms 🙂  
Finally – we were all treated to a fireside concert one evening around the boma fire when one one of our very talented & musical guests sang and played the guitar beautifully for us.  Finding a guitar for our guest to play, was great fun and definitely worth the call out to our network for a guitar we could borrow to take along on our safari.   We get many interesting requests from our guests – and this request for a guitar was a wonderful first.  
The link to our 'Top 10' photos from this Safari is here: 2018 Limpopo In-Style Safari Photo Album  
Our thanks to our wonderful guests who made this such a special Safari for us all. We part as friends, and with wonderful memories and hope to meet many of you again soon on another Alexandra's Africa Safari.
Our next Safari is our Limpopo Rustic Safari:  26th September to 5th October 2018.
Any questions or enquiries – please do click here to contact us, or call us: UK Tel: 02380 488708
Hamba Gathle – Go Well!