With Mother's Day fast approaching, it is an opportunity for us to reflect on relationships and the important role the mother – your mum perhaps – plays in the family.  Very often this is a caring, guiding and nurturing role, becoming over time, a friendship and perhaps companionship. Your mum might be, or might have been, your inspiration, your confidante, your soulmate – perhaps the glue that bonds the family. Mothers are so many wonderful and meaningful things, often making many sacrifices to be so.
In nature it is exactly the same, a lioness will watch over, groom and feed her cubs, and when they are a little older, will teach them to hunt and catch their prey. An elephant will gently teach her little calf to use their tiny trunks, and a giraffe will watch over and encourage her new-born to quickly stand and then run on their long, thin wobbly legs – in all these cases, the mother remains ever vigilant, and will sacrifice all to protect their young. In nature this nurturing and caring often continues for years – well into adulthood.
There are many cases as well in nature where the mother is all of the above, and leads the group, the colony or the tribe: honey bees, killer whales, elephants, spotted hyaenas, lions, meerkats and ants – all are examples of these matriarchal societies where females are the leaders!
Nature itself is indeed wonderful – perhaps that is why we call it 'Mother Nature' – recognising these life-giving qualities.
So consider taking the time in March on Mother's Day to reflect on and recognise those special qualities, and spoil your mum to a gift, a treat, or a trip. If you mother has a love of nature and the outdoors and has always wanted to go on a Safari – then do get in touch with us – she will be in safe hands and will enjoy the treat of a lifetime!
For more information on Matriachal Species & female leadership in human societies here are some more good reads:
The 7 non-human mammals where females rule the roost
Could the animal kingdom hold the secret to smashing the glass ceiling?
6 Matriarchal Societies That Have Been Thriving With Women at the Helm for Centuries
Watch this short film 'Learning the art of the mud bath' whilst mum watches over..
Enjoy!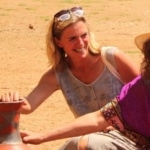 Alexandra's Africa is a local independent, niche Safari Tour Operator based in the New Forest in Hampshire, offering a range of small-group hosted Safaris and Retreats. For information or to contact:  W: alexandrasafrica.com or T: 02380 861278 or E: alexandra@alexandrasafrica.com.
By Alexandra Gillies of Alexandra's Africa