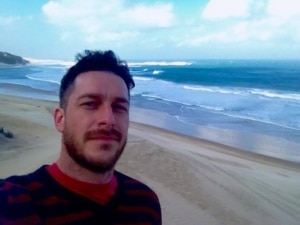 I am delighted to introduce Jonathan Hemmings our new contributing blogger/writer/author!
UK based Jonathan grew up in Pietermaritzburg, South Africa, and regularly visited the game reserves of KwaZulu-Natal throughout his childhood and teenage years. After obtaining a Master of Arts degree in English Literature from the University of KwaZulu-Natal, he lived in Taiwan for eight years, where he worked as an English teacher. Jonathan lives in Bournemouth, where he works as a freelance writer and a novelist.  He still regularly visits his beloved KwaZulu-Natal to immerse himself in the beauty of the wilds there.
Jonathan has a great affinity for Southern Africa and writes about the country drawing on his roots and based on his own experiences. He writes with a style that we think our friends on social media and visitors to this site will enjoy.  He also has no problem pronouncing all the wonderful names of the locations we visit on our Safaris!
His style is refreshing, earthy, pithy, authentic and full of passion. We will be posting some of his work very soon…
Welcome Jonathan!

Alexandra's Africa is a local independent, niche Safari Tour Operator based in the New Forest in Hampshire, offering a range of small-group hosted Safaris and Retreats. For information or to contact:  W: alexandrasafrica.com or T: 02380 861278 or E: alexandra@alexandrasafrica.com.