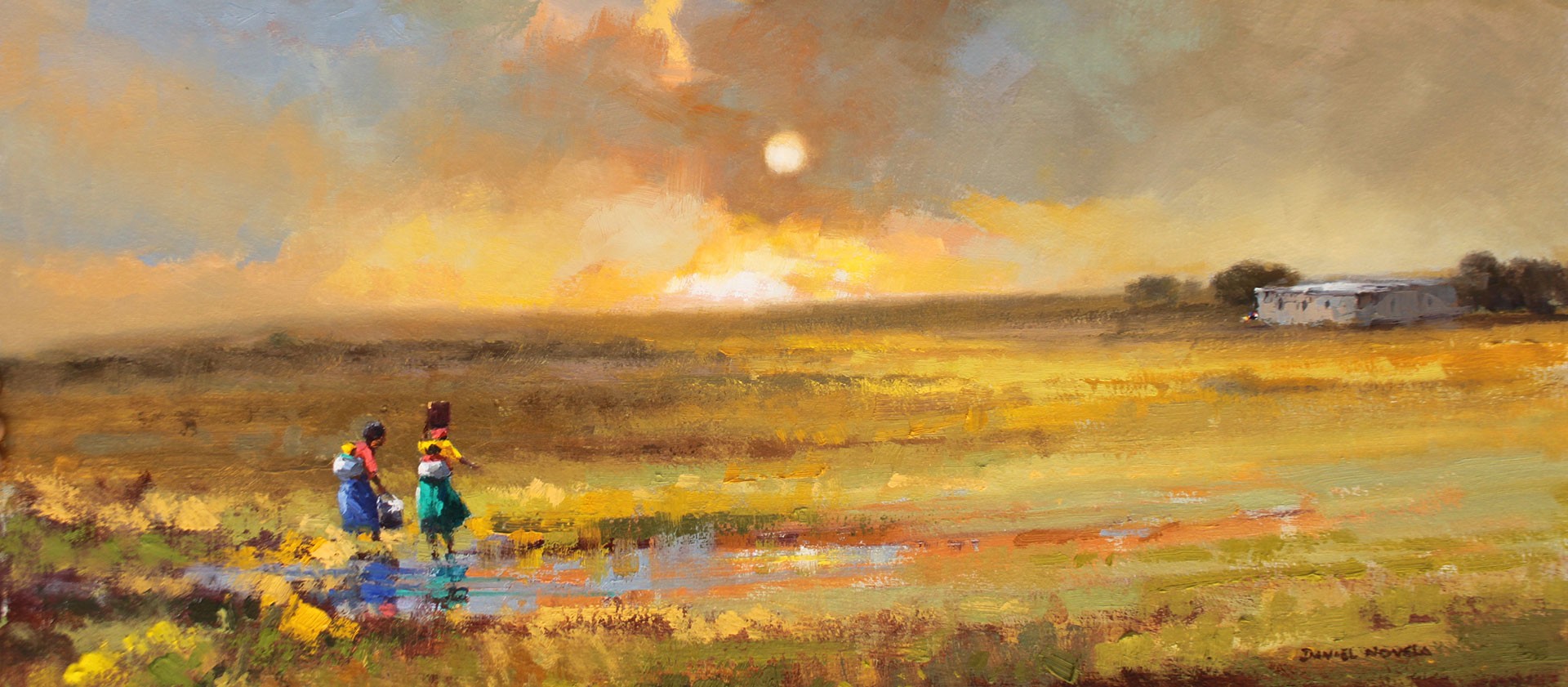 Since childhood, I have been mesmerised by vast, oil, landscape paintings! Paintings where the artist has captured the warmth, the rich colours and the mood of the setting – where a tiny, vivid blob of paint, perfectly positioned on the canvas, represents a ship, a person, an animal, a tree, a ray of sunlight! I was drawn particularly – and remain so – to the African scenes capturing the beauty of the vistas where I grew up.  Now put the two together. Meet plein air, contemporary artist and impressionist South African Daniel Novela!
"En Plein Air…"
Last week I laid eyes on the work of Daniel Novela – an immensely talented South African plein air artist.  Daniel Novela has the ability to uniquely capture mood, colour, real life, in a spirit not dissimilar to that of the English romantic landscape painter William Turner.   'En Plein Air' or 'Plein Air Painting' is the act of painting outdoors!

"A style that is remarkably sophisticated…"
On Daniel's website, Associate Professor of History of Art, at the University of the North West, John R. Botha writes "Daniel has evolved a style of painting that is remarkably sophisticated; although he maintains his ancestral roots with the land, Africa, he interprets this in a style that is neither purely realistic nor overly abstract. He uses his very sensitive feeling for colour to imbue the works with a sense of time and a place that is quite ephemeral".
"The sensitivity of his brush strokes…."
Daniel is from a small town called 'Klerksdorp', in the highveld area of South Africa, very close to where I grew up. He is a fine arts graduate from the Vaal Triangle Technicon (South Africa) where he obtained his National Diploma in the year 2000, receiving accolades as one of the top students, and with a tenacity and integrity that has led him to his exhibitions in New York. As John Botha writes, Novela's "artistic style, particularly the sensitivity of his brush strokes and his feeling for atmosphere, is commendable.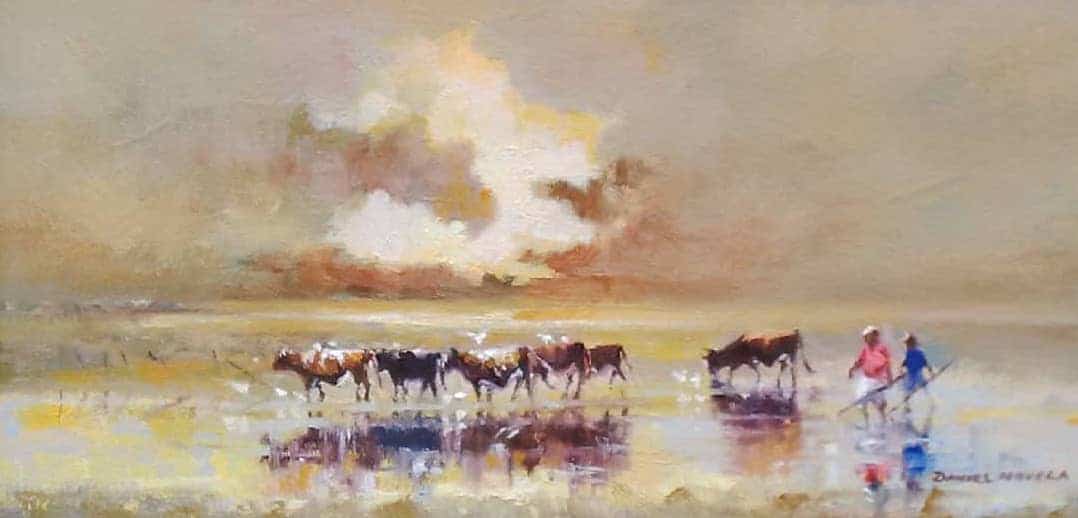 "The pleasure of painting…."
I asked Daniel last week about his preferred medium – and he tells me he uses oils, "with a very limited palette of 3 colours: blue, red and yellow, with a complementary white", adding "most of my work is done directly from life – plein air painting … my main inspiration is the simple life lived by rural people … they are happy with what they have".  Daniel tells me his "plein air painting cannot be replaced with studio painting nor can it be compared". "I am addicted to it" he tells me "because I can see the natural colour, the mood of the place, atmospheric, proper tonal values that a camera would have omitted most of the information".
Daniel concludes by telling me "There are no words to explain the pleasure of painting directly from life. I see my subject, I talk to my subject, I listen to my subject".  I feel a lesson for all of us in this!
"Daniel Novela Contact…."
To connect with and learn more about Daniel Novela and see more of his incredible work:
If you would like to know more – get in touch with us at Alexandra's Africa!
Alexandra's Africa Eco-Cultural Safaris
Coserving Wildlife, Art and Culture through Responsible Tourism!
Stay well,

Alexandra's Africa is a niche, Safari Tour Operating Co. we support local southern African artists, conservation, culture and community through our range of small-group Hosted Safaris,  Tailored Safaris and Conservation Experiences, generating interest, awareness, investing in and safely creating opportunity for engagement for guests that would like to learn more about this part of the world and travel more independently but not alone. All of Safaris combine wildlife, art & culture to create unique, personal, meaningful & memorable learning experience for all.  Our offices are in Pretoria & Outeniquastrand in South Africa and in the New Forest in Hampshire, UK. Please do get in touch and contact us if you would like to know more about the blogs we write, or about the Safaris and Retreats we offer. There is always something new in the melting pot of creativity.
Please contact us through the website 👉 ALEXANDRA'S AFRICA CONTACT
OR contact me directly by Email 👉 alexandra@alexandrasafrica.com
OR By Tel: UK +44 (0)2382 354488
We contribute to SDGs:  SDG8 (work & growth), SDG10 (inequalities), SDG12 (production & consumption), SDG13 (climate action), SDG14 (life below water), SDG15 (life on land), SDG17 (partnerships).