Pilato Bulala inspires all who meet him! An extraordinary talent, this African scrap metal artist from Limpopo, South Africa, has a passion for creating stunning art pieces, each with its own unique story. And like his artwork, Pilato Bulala is an interesting and beautiful character with his own extraordinary life story to tell.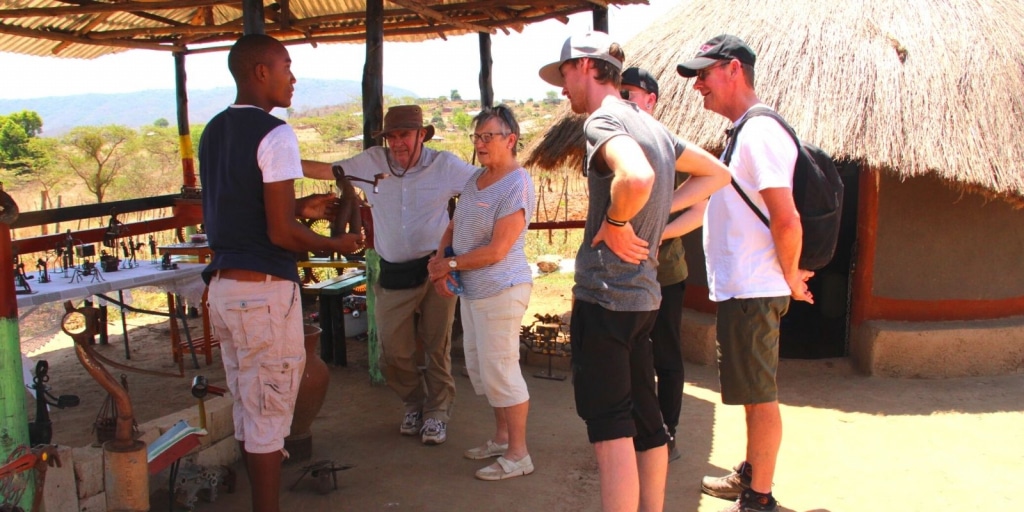 The Journey
Pilato started his artistic journey with no power tools or electricity. He began as a young boy by creating detailed sculptures made from scrap zinc and wire after school, until he finished his formal education in 2017. Then as his skills grew, and he learned to work with metal, creating wonderful shapes with meaning, he coined the word "scraptures" to describe his work – sculptures from scrap metal.
Pilato coined the word 'scrapture' and has his own small, rural gallery…
Over time, he built his own house and rural gallery in the village of Tshivuyuni, near Elim in Northern Limpopo – to live and, more importantly, work and showcase his amazing scraptures of birds, fishes, animals, and rural women and men.  Each scrapture tells a story of traditional life in South Africa and its modern problems. For example, his 'Winnie Mandela protesting against carrying a pass' piece; and his striking Hector Peterson-piece depicting the turning point for the Apartheid-era in South Africa – favourites among his Facebook friends and followers. He also makes beautiful earrings and jewellery.
His house is decorated by his mother, Agnes, a beautiful, strong rural woman with a big, warm heart. She is his rock and most ardent supporter. She still decorates the traditional mud floors of his hut with natural oxides and cow dung, and she grows the mealies and pumpkins that are in his garden! Despite limited access to the basics that many of us take for granted: water, electricity, tools – Pilato still manages to craft his inspired art pieces, which attract both local and international interest.
His Support
The culture centre 'Madi a Thavha' and the Love Limpopo team have been supporting this determined and gifted young African scrap metal artist with training and marketing ever since 2014. He has attended several of Madi a Thavha's exhibitions and workshops. This is where he learnt to weld, make tin jewellery and was exposed to national and international craft markets. He has also joined trade and tourism shows in Johannesburg.
Our guests at Alexandra's Africa are lucky enough to visit Pilato on their safari tour with us. They get to see his amazing works, experience his passion and listen to his wonderful storytelling describing the inspiration for each of his pieces! There is also an opportunity to buy one of his scraptures or something from his jewellery range.
Examples of Pilato's work
Some more examples of Pilato's inspired scraptures: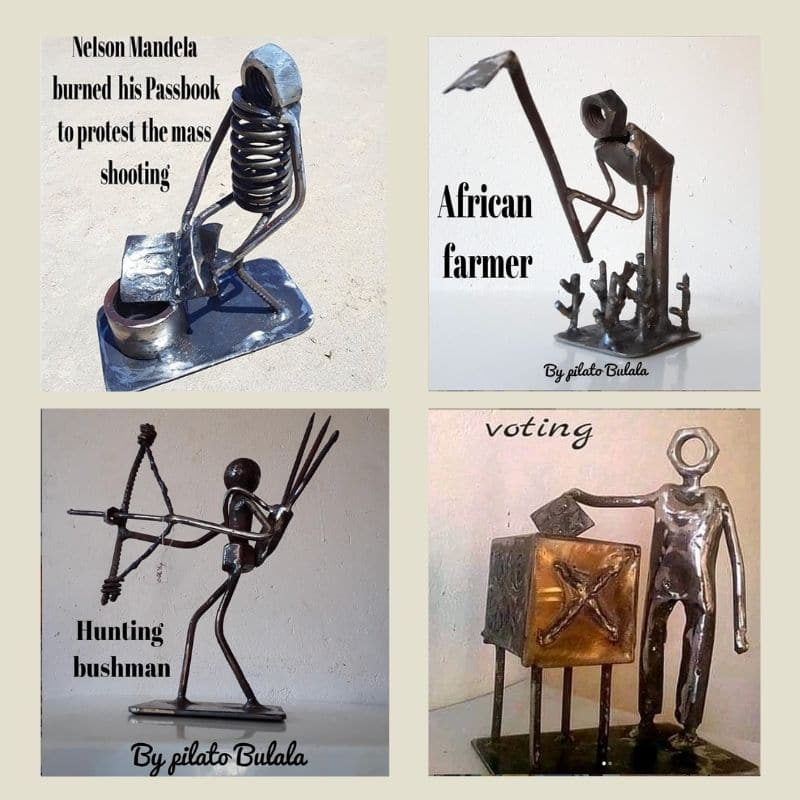 For more on this remarkable young African scrap metal artist, please visit Pilato Bulala's Facebook or Instagram pages: @pilatobulala
You can also watch these two short films from our recent visits to Pilato with our guests!
If you would like to know more about the cultural experiences we offer as part of your safari holiday in Southern Africa, contact us at Alexandra's Africa to chat. We'd be delighted to explain all our different eco-cultural safari options and help you plan your safari holiday of a lifetime.
Alexandra's Africa Eco-Cultural Safaris
Crafted with Passion – Delivered with Care!
Stay well,

Alexandra's Africa is a local independent, niche Safari Tour Operator with offices in the New Forest in Hampshire, UK, and Outeniquastrand & Pretoria in South Africa. We offer a range of small-group Hosted Safaris, Tailored Safaris and Conservation Experiences.  For information or to contact:  W: alexandrasafrica.com or T: +44 (0)2382 354488 or E: alexandra@alexandrasafrica.com