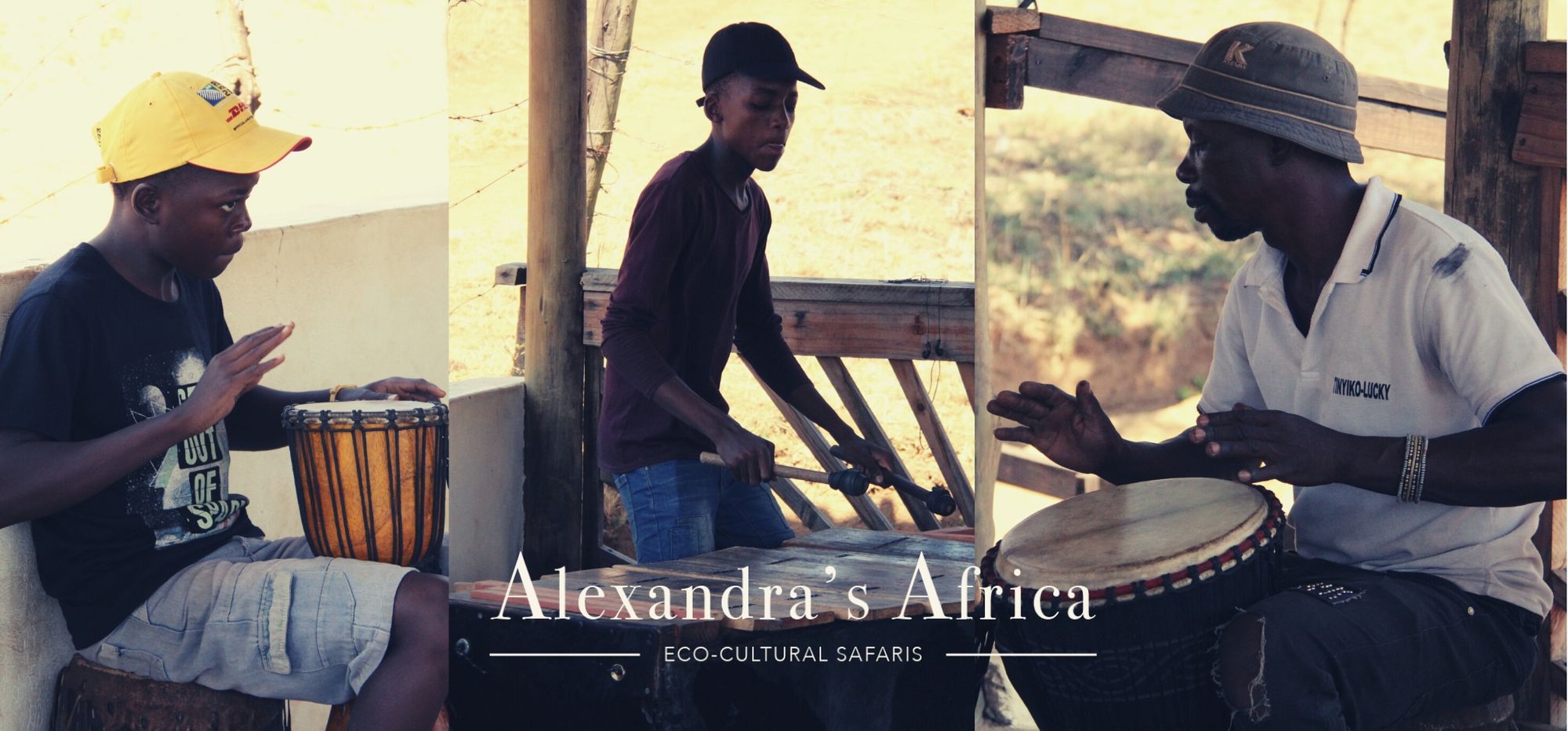 Described locally as a 'national treasure' this is a brief glimpse into the life and work of Lucky Ntimani – a talented, gifted musician and wood carver from northern Limpopo, South Africa. So talented and gifted in fact that every year, I walk down the same dusty path to his village home in north Limpopo, South Africa – multiple times to visit him!
It is a walk I make on every eco-cultural safari we run – so six, seven perhaps eight times a year – with our guests because not only is Lucky a joy to visit, to experience his music and appreciate his wood carvings, but it is important to me and to all the team at Alexandra's Africa to support Lucky. To support, his art, his music, and the work he does to teach, to pass on his skills and knowledge to the young boys of his village. What does he teach? It is the art of music and musical instrument making. These 'boys' are young men really – and Lucky  teaches them to make and to play traditional musical instruments.  Lucky tells me and always with a little twinkle in his eye – that it keeps them out of mischief!
Dressed in the simplest clothes, Lucky is always dignified, always professional, always courteous. When the guests are all seated in the tin roof music studio he has built at his home – Lucky gives us an introduction to the repertoire, he is about to play. The introduction is in English, and his baritone voice – strong and slow. He tells us about the music and about the work he does to train these young men to make and play musical instruments. The young men standing relaxed in front of us – each with an instrument, look on as Lucky addresses us. All masters of the instruments they are about to play, liked disciplined athletes, these young men wait for their cue to start playing.
As Lucky finishes the introduction, he glances at my expectant group sitting in front of him and smiles. It is a big crocodile-sized smile with the whitest of teeth I have ever seen. It is a smile I have come to love and a smile I look forward to seeing on every visit to this wonderful man.  He briefly then looks up casting his eyes over the dusty houses and streets of the village behind the studio – takes in a deep breath – as if lost in thought for a second or two.  He regroups and returns to join his boys – 'the band' –  sitting behind his drums he starts to play….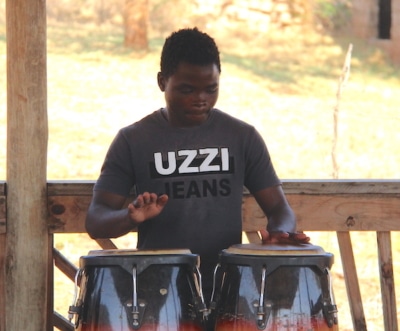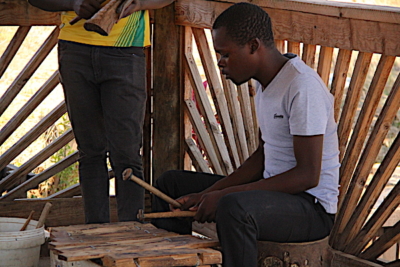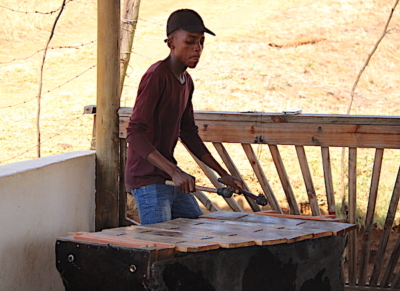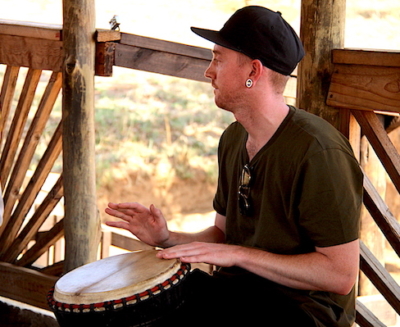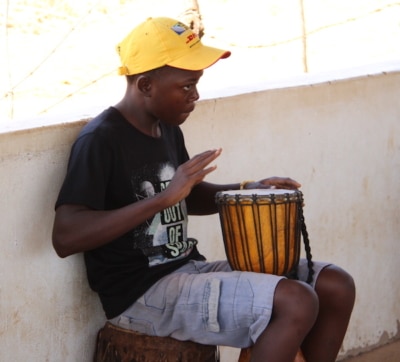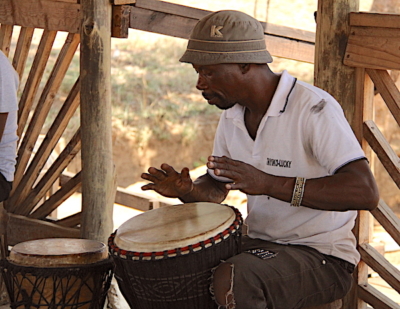 As the music fills this wonderful open air studio, I feel the warm breeze filter gently across this open wonderfully creative space. As one piece ends and the next one starts, the boys move silently from one instrument to the next.  It is part of their training – to be able to play every instrument used by the band! Towards the end of the repertoire, our guests are always invited to join in – to try any instrument of their choice. The results vary from a little rough to quite incredible – but always fun! The latter (incredible) was the recent occassion shown in the picture below where Andrew (centre of the picture with hand in air to the left of Lucky) gave us all – guests and hosts – a jaw dropping solo on an instrument he had never played before! These jamming sessions are always fun and quite moving as we illustrate in the short films below. Music breaks through cultural boundaries in a remarkable almost instantaneous way. After our jamming session – everyone so relaxed – happily posing for this memorable picture.
Lucky lives and works in the small village of Bokisi, close to the town of Elim in Northern Limpopo, South Africa. He worked and lived in a 3 square meter workshop for four years before adding the music studio which he built himself from adobe bricks which he also makes himself! He has a beautiful flower and vegetable garden with sculptures in it. He plays the drums, the marimba and the guitar – all self taught. But this inspirational man is not only a musician – he is also a wood carver of note. Inspired and taught to carve by the late Jackson Hlungwani (1923-2010) whose work (Jackson's) has featured in several exhibitions at key galleries and museums, including the Norval Museum and the SMAC Art Gallery, Stellenbosch with realized prices ranging from $388 USD to $17,654 USD, depending on the size and medium of the artwork.
Lucky's carvings tell the Tsonga (his tribe) stories of old and new.
A number of Lucky's wonderful carvings now sit in the homes of our guests.
Lucky's time we feel will come…
Below two short film clips featuring some examples of our wonderful guests jamming with Lucky & his band:
_____
We all LOVE it when our guests get involved!
This is what Alexandra's Africa is all about – our guests and hosts sharing & learning and having fun through immersive experiences like these. Our aim is that everyone benefits!  If you would like to know more – please do get in touch. Contact details below.
Thankyou for reading and for your interest.
Wishing you all well…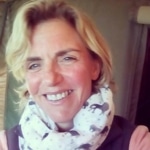 Alexandra's Africa is an independent Safari Tour Operator with offices in the New Forest in Hampshire, UK and in Pretoria & Outeniquastrand in South Africa. We offer a range of small-group Hosted Safaris, Tailored Safaris and Conservation Experiences that we like to think of these as 'learning journeys'.  Please do get in touch and contact us if you would like to know more about the blogs we write, or about the Safaris we offer. There is always something new in the melting pot of creativity. We love to talk about it all… 
Please contact us through the website 👉 ALEXANDRA'S AFRICA CONTACT
OR By phone 👉 (UK) 02382 354488
OR By phone 👉(Int) +44 2382 354488
OR By Email 👉 alexandra@alexandrasafrica.com
All photographs in this blog (above) – unless stated in the caption are sourced from Alexandra's Africa.