"Alexandra's Africa was established in 2012 as a safe, sustainable, hosted, eco-cultural safari tour operating company…we have never been anything else…"
Alexandra's lifelong passion for Southern Africa and the conservation of its wildlife, culture and local communities is the driving force behind 'Alexandra's Africa'. For 10 years we have been hosting eco-cultural safaris across some of the most beautiful regions of Southern Africa including: South Africa, Botswana, and Zimbabwe.
Our trips promise to tread lightly on the environment and create local opportunity, whilst providing guests with a unique 'Out of Africa' experience. Alexandra is committed to delivering a safe and inclusive experience for mature travellers to enjoy, ensuring you are guided throughout the entire process from booking until you arrive back home.
We offer a selection of carefully handcrafted Safaris to suit your pace, interests and sense of adventure, the choice is yours!
Our small group Hosted Safaris: The Classic and The Explorer, take you on a longer journey combining wildlife, art, culture, legacies, and landscapes to create a unique experience that is personal, meaningful, and memorable. If you have limited time…. our Getaway range offers a slightly shorter option across Namaqualand, Southern Cape and Limpopo.
These guided safaris offer superb game and bird viewing opportunities, immersive local culture tours, rustic bush accommodation, and a chance to meet mature, like-minded travellers.

_____________________________________
If you are looking for a more bespoke trip, our 'Tailored Safaris' give you the freedom to journey deeper into Africa in regions teeming with birds and wildlife on land and in the water. Our personalised and tailored safaris in the regions of Botswana, Zimbabwe and South Africa are crafted to suit your time, your desired pace, your comfort and – your sense of adventure.
Enjoy a sunset game viewing cruise on the Chobe River, glide through the Okavango Delta in a mokoro, experience the iconic Victoria Falls, and add on a few days extra to feel the energy of the markets and vibe of the jazz venues in Johannesburg! Complete your southern African immersion with a glass of crisp white wine and fresh Atlantic sea breeze in the fairest cape of all.
Fancy a bit of scuba? Why not extend your safari and join our partners at TriDiving for a truly unique scuba experience!

_____________________________________
Kalahari Conservation Experience
Embark on a once in a lifetime  Conservation Experience in one of South Africa's largest private big-5 game reserves. Break free from tourists and time limits as you follow animals in their natural habitat on this truly unique and memorable trip !
This Conservation  project is designed to contribute to the reserve's ecological needs by assisting with a range of activities including game counts, wildlife research, vegetation surveys, and so much more…  You can do as much or as little as you like. It is your choice!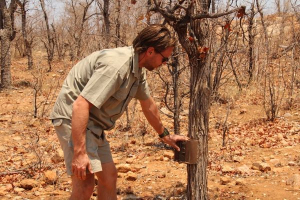 _____________________________________
Join us…
Invest in memories – Invest in Conservation!
Limited spaces available on our trips.
Alexandra's Africa Eco-Cultural Safaris & Retreats
Crafted with Passion – Delivered with Care!
Stay well,