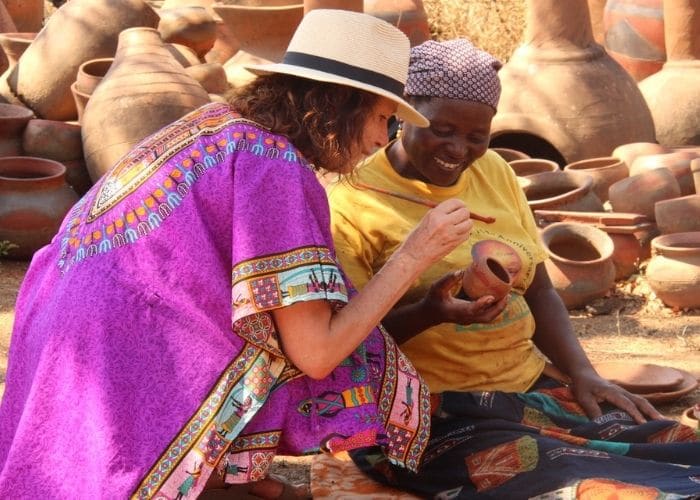 Making Memories on a Safari Holiday
Do you love making memories that you can savour forever? Life is all about enjoying memorable moments; and an African Safari holiday is the perfect way to create amazing memories that will last a lifetime.   
As an independent safari specialist, Alexandra's Africa ensures that making memories is easy for our guests. Our eco-cultural safari experiences allow you to explore the beauty of Africa, its wildlife and nature, and also its amazing people – all of which ensure you have the holiday of a lifetime. 
Here are a few activities that you can enjoy and are guaranteed to fill your memory box with unforgettable holiday experiences.  
Journey deep into Africa – discover magnificent landscapes and visit where three countries and two mighty rivers combine in the region of Chobe, Botswana, and its hinterland. Witness the iconic Victoria Falls; and experience a backdrop of never-ending horizons, striking dolerite pillars and massive sandstone escarpments of distant mountains. 
Escape to a whole new world – discover a place where nature, wildlife, landscapes, art and culture take on a deeper meaning. Experience giraffes strolling through the camp, watching a cheetah stalk her prey, sipping your early coffee serenaded by an orchestra of birds, or watching the sunrise cast its fiery tentacles across the Bushveld savannah.  
Unexpected late-night meetings – bump into a porcupine at night as you navigate your way back to your en-suite, stylish and cosy room under canvas!   
See plentiful game – on our daily drives and walks, see adult elephants, hippos, rhinos and zebras, as well as cheetah and lion cubs, and newborn antelopes and giraffes abound. Watch Jackal pups frolicking with their mother looking anxiously on. See elephants guide their young across a river.   
Learn from the locals – discover how the past has shaped present cultures and communities by weaving through three topographically unique regions.  
Be woken by wildlife – awaken to an orchestra of bird song, watch waterbuck, zebra and giraffe stroll elegantly along the banks of the Limpopo. 
Discover history – retrace the steps of the 'Great Trek' of the South African Boers and some of the more controversial Anglo-Boer war conflicts. 
Experiencing cultural traditions – Meet local Venda artists as they make traditional pots,  tell their stories through rhythmic, hypnotic music and mystical wooden carvings, weave their legends into colourful and perfectly crafted batik accessories, and produce innovative, quirky artworks from scrap metal.  
If you are interested in making memories on a safari holiday in Southern Africa, contact us at Alexandra's Africa to chat.  We'd be delighted to explain all the different safari options and will help you plan your sustainable safari holiday of a lifetime. 
Alexandra's Africa Eco-Cultural Safaris
Crafted with Passion – Delivered with Care! 
Stay well, 

 Alexandra's Africa is a local independent, niche Safari Tour Operator based in the New Forest in Hampshire, offering a range of small-group hosted Safaris, Tailored Safaris and Conservation Experiences. For information or to contact:  W: alexandrasafrica.com or T: 02382 354488 or E: alexandra@alexandrasafrica.com.